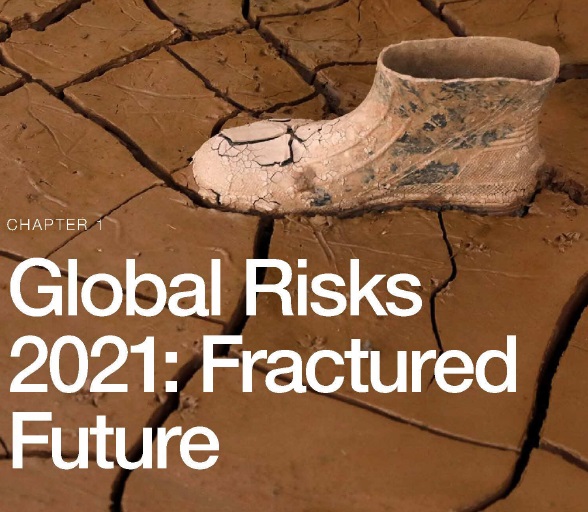 The Global Risks Report 2021, 16th Ed., Insight Report, was just released by the World Economic Forum (WEF). This is one of the best places in the world to gather ideas for scenario planning, especially Chapter 1 on Fractured Futures. Essentially, this report is scenario planning, but for the whole of the world, and then on a region-by-region basis. So, a government, a business, or a non-profit organization can simply review these risks, adapt the concepts to your locale and situation, and wa-la, you have scenarios to plug into your scenario planning workshop. Of course, multiple risks might have similar results for your organization; for example, disaster recovery planning might be similar for man-made disasters as well as natural disasters.
This report gets feedback from diverse industry leaders (more than 600 for each section) to see what risks are lurking in the future, how likely they might be, and how much impact the risks might be. Let's look at some of the assessments. These are really three different charts, short term, medium and longer term (<2 yrs, 3-5 yrs, 5-10 yrs). The first is called Clear and Present Danger. Infectious Diseases and Livelihood Crises top this near-term list. The pandemic and the associated recession/unemployment is here and now! Extreme Weather Events was a close 3rd Clear and Present Danger.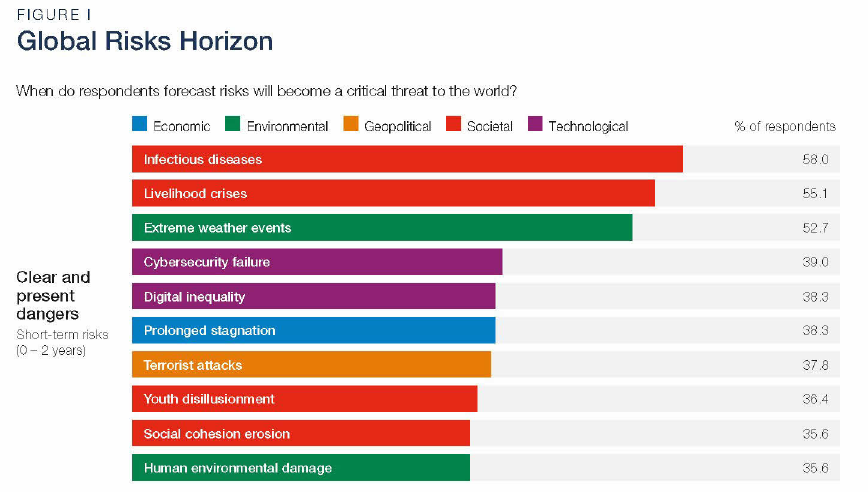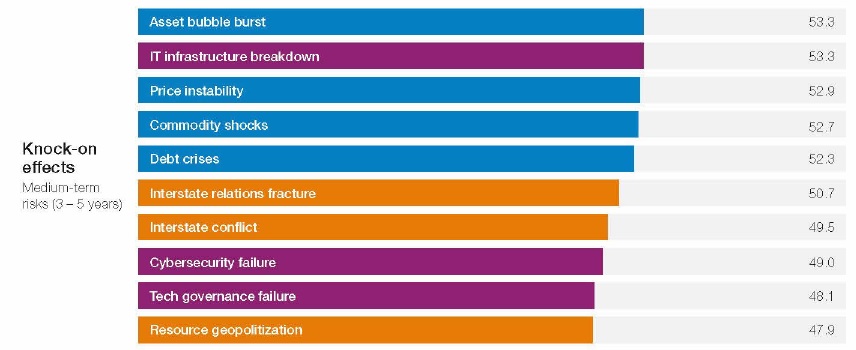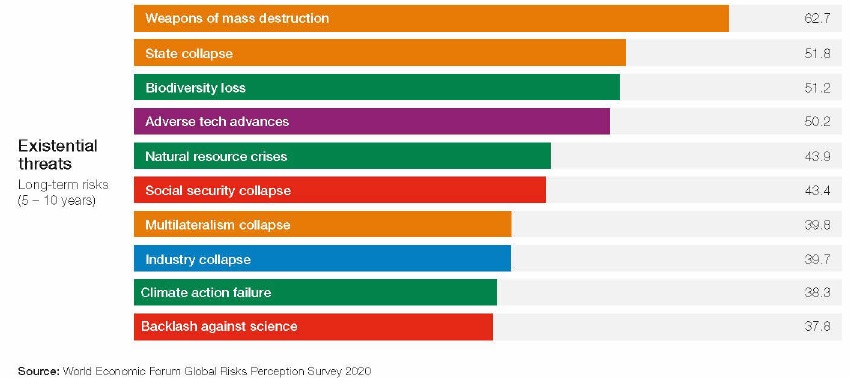 They label the medium-term (2 to 5 years) as Knock-on Effects and longer-term (5 to 10 years) as Existential Threats. Red is societal, Green is environmental. Note that societal (red) like the pandemic and the pandemic lock-down top the list in the short term; in the medium-term economic (blue) and technology (purple) dominate the highest risks; and in the longer term geopolitical (brown) and environmental. That makes sense, disruptions now could have economic impacts in the medium term and longer-term destabilization of countries. Destabilized countries or regions mean that eventually the stockpiles of weapons of mass destruction might get used (accidentally or intentionally).
Another chart maps out the impact and the likelihood, with the obvious focus on the upper right. All but one in the upper right is related to environment (green): climate action failure, biodiversity loss, human environment damage, natural resource crisis, extreme weather (floods, fires, hurricanes, tornadoes, etc.). The only other risk to land in the upper-right quadrant was Infectious Diseases landed in the upper right quadrant (listed under societal in red).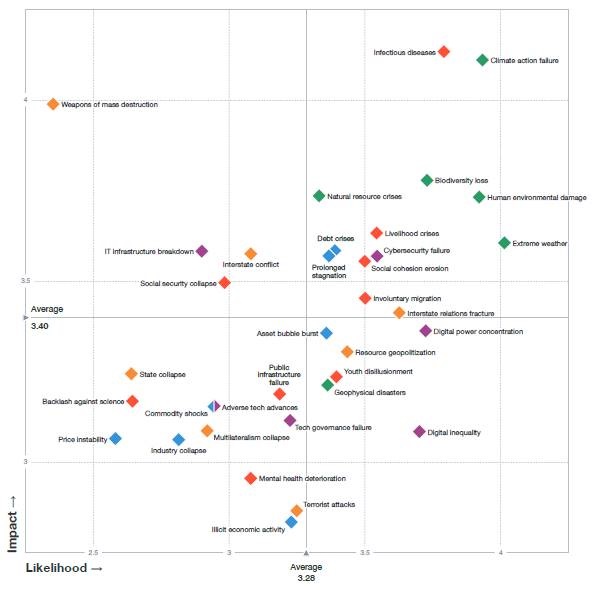 Of course, Infectious Disease was not as prominent in the past (about 3.0 on likelihood and 3.5 on impact) in the 2019 report. But the pandemic, and the economic shutdown, produced a new category – Livelihood Crises – that ranked above 3 and 3. Unemployment and the Livelihood Crises were defined as: "Structural deterioration of work prospects and/or standards for the working-age population: unemployment, underemployment, lower wages, fragile contracts, erosion of worker rights etc." Many workers, often lower-income workers, have lost their jobs, and the jobs may never fully return: malls, office building maintenance, etc. Some 20% of (mostly small) businesses have closed world-wide. Ouch!
Still, if you had made your organization's resilience plan that considered a pandemic scenario, you would have had better contingency plans or made different decisions. Your organization might be better able to weather the pandemic storm than most organizations.
Some of the impacts of the pandemic are also discussed throughout the report. During the peak shutdown, 14% of the world's workforce was idle (based on lost hours of work). Women-owned businesses closed world-wide at almost twice the rate of male-owned. (This is worth further investigation to adjust for the proportion of business in each category.)
We previously posted about how the outgoing Obama administration did a training "scenario" exercise for the incoming Trump administration in 2016 and early 2017. It was a pandemic exercise! As we now totally realize, a good pandemic scenario must engage all aspects of the government, the economy and the population in order to have a full and effective response. Everyone involved in the scenario agrees that the Trump administration did poorly; the transition training exercise was stopped before completion; no report or learning document was ever published. Further, in mid-2019, the Trump administration killed off the PREDICT program for addressing pandemics and pandemic planning…
…
Also look at Survival Planning: using scenarios in times of extreme uncertainty
http://delphiplan.com/wp-content/uploads/2020/12/SurvivalPlanning-InTimesOfExtremeDuress.jpg